Digital Insight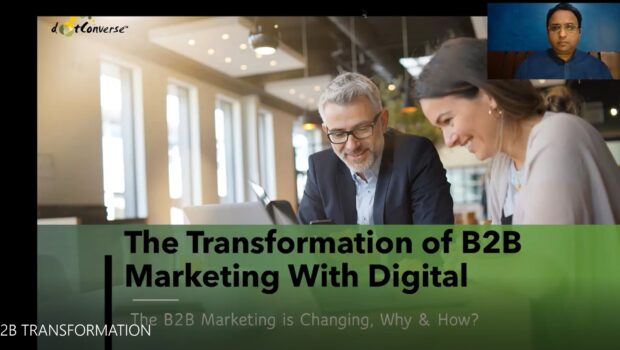 Published on May 26th, 2020 | by Saurabh Pandey
0
Key Takeaways From The Webinar- The Transformation of B2B Marketing With Digital
We addressed a few questions in the webinar. The transcript and the video are presented here:
Our business getting leads but facing to convert in sales due to competitor lower prices, so we can convert these leads in sales.
You have to think differently. Competing on pricing alone is not a sustainable strategy. There could be various reasons for your challenge,  no. 1 maybe you are not able to delineate the reasons for your products high prices, no. 2,  maybe you are targeting the wrong audience set, no 3  maybe your features or components that make the product expensive are not really relevant for people.  So you need to revisit all these 3 pointers.  Plus you should also have a realistic benchmark. Whenever you are selling at a price point which is higher than the average MOP, you should be ready to sell volume.
Second, your marketing communication, your landing pages you overall strategy should be different than the volume seekers which are your competition. You need to demonstrate the value of your product- which means that your communication and the process of engaging people should also be such that only those who prefer value remain with your communication till the end of the funnel, rest all will leak out of the journey.   And after that you get less but much more qualified leads with a better chances of conversion.
I am a small brand and compete with various large brands in my market, but my products has a few unique features and is cheaper to operate how can I generate quick demand
Understand that your buyer is getting a huge volume of communication from your competition and if you add to it, you will be lost in clutter. Second, your competing brands can invest more than you in advertising and hiring better sales people.  Third they have an equity which you don't have presently.
Given this situation, you need to do the following:
Search for a niche- don't play the entire market, rather look for a niche where the big players are not paying attention to.
Create conversation opportunities in this niche-  see you need to compensate for the lack of brand equity by investing in opportunities to collaborate or converse with your buyers.  find out what is the problem of this niche, what are key challenges, and then create low investment opportunities- like webinars or an interactive simulation where your buyers can see themselves growing through your
Invest in profiling your audience set- invest in market research to find ownership of your buyers and ageing of their ownership- then selectively to a few you can target for demand generation and the rest you can engage and nurture
I am writing B2B content for many years, but not much benefit came my way. How to benefit from B2B Content marketing? How to do it the right way?
Create rational expectations- and right metrics.  Then create content accordingly and judge which areas are working, instead of having a blanket thinking that my content doesn't work.
Create a content structure in consonance with the stages of buyer experience, buyer challenges and buyer stages
Invest in high quality content creation.  There should be meat into it, even if the production quality is not great
Involve people from your team or experiential influencers in creating content. Involve people who are passionate about a given subject, that helps you bring in genuineness.
Stop creating content for search engines
What is Thought leadership and how to create it?
If you can provide deep insights into your buyer's problems and challenges- that created thought leadership.  It's not easy and hence the volume of this content is less. However with the help of digital you can collaborate with customers and influencers to create thought leadership content.
It's not about your product.  It's about the industry and it's pain points. It's about inspiring people. So invest in research and collaboration.
Watch the full webinar here:  https://www.bigmarker.com/dotconverse/The-Transformation-of-B2B-Marketing-with-Digital?utm_bmcr_source=atomthought