Blog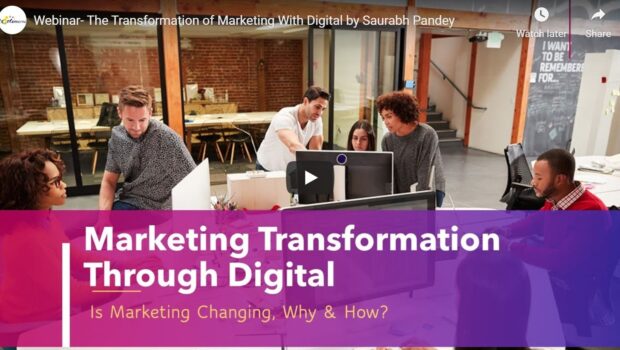 Published on May 12th, 2020 | by Saurabh Pandey
0
Key Takeaways From The Transformation of Marketing Webinar
Marketing is transforming and how.  We see 2 major transformative changes- the attention fragmentation of consumers' and their changing buying decision journey.   The webinar, below, delved deeper into these phenomenon.
We addressed a few interesting questions from the attendees of the webinar, and tare presenting the transcript as takeaways below:
Given the engagement stage of buying journey is very critical , what % of our budget should be spent in this phase?
OK, so there are two important learnings from the presentation:
It's prudent to invest money on creating experiences for users at every stage. So what we are saying is that you should focus on what kind of experience is needed in a specific stage and then allocate a budget accordingly. Do not make it watertight by stage- rather focus on experience needed and then spend what is necessary to create that experience.
We have to collect  a lot of data to be able to understand the impact of experience on consumers.  We need to observe if creating positive experiences, results in the flow of users from one stage to next better than earlier or not. This will give us a conversion rate (and a lift in conversion rate) by funnel stage. And then we can see how much each stage contributes to the final conversion or sales.   Now, you can attribute a clear cost of conversion by stage and can attribute a cogent budget.
This is the reason why modern marketers need to invest in  data and skill sets to create experiences.  (Our media expenses should be less in general, and investment on people & skills, data and experience creation should be more)
What are the Key metrics or KPIs for marketing RoI that we should  consider?
See, Key metrics or KPIs will depend on your goals for a specific campaign or goals for a specific journey stage, or goals of a certain product line etc.
CXOs look at Business growth as one key metric. Within business growth they look at market share growth, mindshare growth, satisfaction growth and profitability growth
However as you go down the hierarchy the metrics should become more granular.  At the end of the day as a marketing leader, you should be responsible for high level metrics- that's where your value add is.  However you should look at granular metrics to understand what's causing a lift and or decline in growth.
You should create a metric funnel. At the top of this funnel should be high level metrics and as you go down the funnel- define metrics for each layer of hierarchy, responsibilities and platforms or marketing areas that they handle. The top of the funnel is more strategic and bottom is more tactical, campaign based, platforms based, seasonality based etc.
When we do demand generation, we get a lot of leads, but how do we determine what's a good lead?
So, net net, if my sales guy just has to pick up a phone, call the lead and the lead converts easily- then that lead is great!
But that's easier said than done, and in real life it doesn't happen that way most of the time.  The reason is our ignorance- where we look at all types of leads with one standard perspective and expectation.
If a lead has shown interest, and we have been able to collect correct contact and demographic data- it's a good lead. But unless we attach intent and stage level data- it's not a great lead.
Once we understand at which stage of buying this audience is and what exactly is the intent – then we can take appropriate steps and create expectations of how soon can this lead convert and what do we need to do till then.
We also need to understand that our target audience follows a journey and then at an opportune time fills up a lead form.  Leads forms are not filed on impulse. Hence it's imperative for brands to capture intent and hand hold audience over time, and transition them towards a final lead capture of form fill.
While consumer attention is getting expensive for advertisers, should brands focus on creating communities?
The focal point should always be user experience. If the journey stage demands advertising, so be it, if it needs touch point experience, let's invest there. So as I said earlier, let's not create watertight compartments. If there is a clear rationale of who would be part of the community, what experience will this community deliver and if the context and importance of this experience is justified, we should invest in communities.  But lets not forget that metrics or brand expectations should also be in syn with experience objectives. An advertising objective will be quite different than community objective. While advertising is easy relatively and more direct and transactional, community experience will be tough to manage, long term and very less transactional in nature.
Please click here to access the 5 Stages of Consumer Experience Infographic and keep tuned in , for our announcements about our next set of webinars.